EV RUNNING CLUB EARNS $750 GRANT
The Elkhorn Valley Running Club's has been awarded a $750 grant through PATCH (Planned Approach To Community Health). These grants are awarded to schools that demonstrate the greatest influence on youth and the likelihood of a sustainable impact on young people's nutrition and activity levels through innovative programs.
At Elkhorn Valley 3rd through 6th grade club participants are encouraged to get up and get moving in a non-competitive environment. There are generally 25-35 runners who run 3 mornings a week for 15 minutes before school. The program is administered by volunteer coaches and junior high students. The students earn necklace "charm" awards when they meet certain criteria. Some of the benchmarks are 3 days of running and numbered charms for surpassing mileage marks (5, 10, 15, 20 miles). They can earn a large foot charm for reaching the Marathon Status, each time they reach the 26.2 mile mark. With the PATCH grant money we are able to provide EV Running Club T-shirts to our members who have run on a regular basis throughout our season (November to March).
Recently we have had "Run with the Cross Country Team" and "Run with the Volleyball Team" days. On these days the junior high and high school athletes came to run along with and encourage the elementary runners. We have even heard from classroom teachers that the students who participate before school are much more focused in the classroom on running mornings. It is a very positive environment to kick off the day. We are proud to provide this kind of program for our amazing EV students.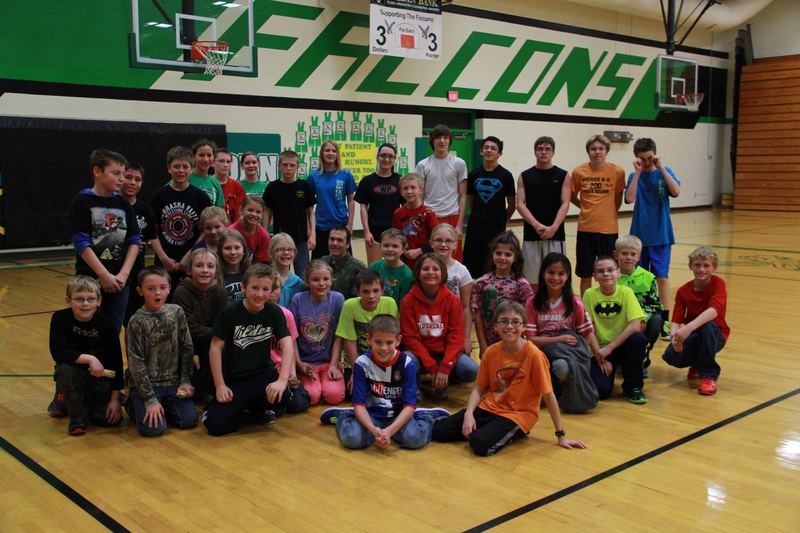 Group Picture of the running club on "Run with Cross Country" morning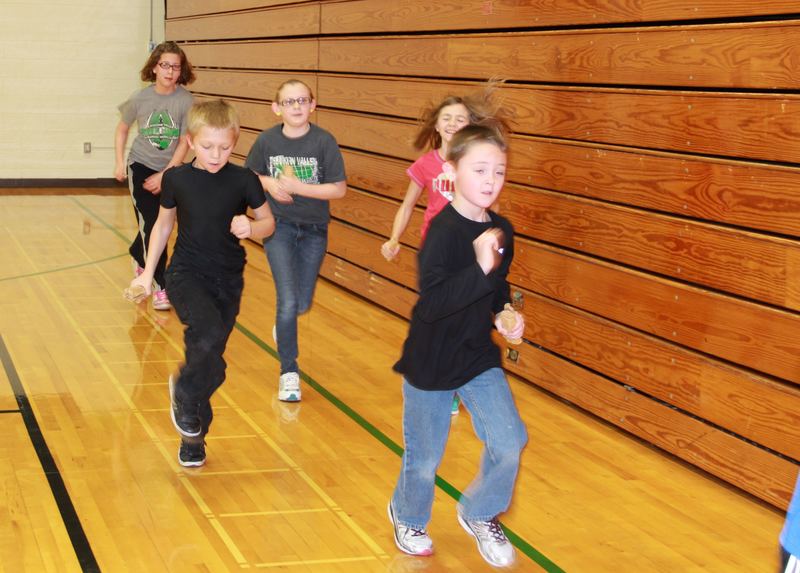 Front to back: Waylon Warneke, Chase Klinetobe, Alexis Larsen, Karissa Fernau, and Sydnee Schaecher